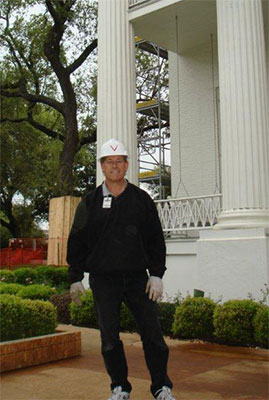 Leigh L.
He arrived 15 minutes early. He was professional, courteous and friendly. He inspected the fireplace and chimney from the inside of the house and from the outside on the roof explaining everything we needed to know in detail, and why he deemed it to be safe and in good working order. He said all it needed was to be cleaned. He was efficient and got it done in no time! He cleaned up the floor and left everything the way it was before he came. The price was a bit cheaper than most of the chimney sweeps that we checked. All in all this was a great experience and we would highly recommend this company!
Sahar A.
The owner of Silver Lining, Kevin, was courteous and very professional. Our original appointment, 2 weeks before the actual date of the work done, was completely forgotten by me. I was out of town on the date. Kevin was gracious enough not to charge me for the service call (I offered to pay for the forgotten appointment) even though I completely wasted his time with the no-show on my part. We re-scheduled and he came out two weeks later. Kevin covered the furniture and floor completely (in fact, you wouldn't have even known any work had been done; everything was so clean when he left). He scrubbed my chimney clean within 45 minutes. Kevin explained that I should have my chimney cleaned every 12 - 24 months, depending on how often I use it. (My husband & I have been in our house 15 years and have never had the chimney cleaned.) I would most certainly use Silver Lining again.
Nancy C.
Came out and offered a second opinion on a proposed fireplace repair from another company. Said the repair wasn't needed and we could use our fireplace just fine. Saved me hundreds of dollars.
Patricia F.
Kevin did an excellent job. He checked the inside of the chimney for cracks. Then he went on the roof, and took the cap off to look for any signs of damage. He did a very thorough job. This is the first time I've used this company, and they will be the one's I call back again.
Anonymous
Punctual, friendly and professional. Didn't appear that chimney had been used much, or if at all, so he didn't charge us for a cleaning, just a regular inspection. We really like fair and honest. Very reasonable pricing.
Anonymous
Great! Kevin (the owner) did a fine job, and the dryer works much better now that all the lint has been sucked out of the line. Kevin has cleaned our chimney before and will again, and he has always done a fine job.
Anonymous
Kevin showed up a couple of minutes early. He was dressed professionally. He covered the fireplace opening with a barrier and cleaned the chimney, then proceeded to clean and vacuum the fireplace itself. He walked outside and inspected the outer aspects of the chimney and pronounced it in good shape. The whole process took about 30 minutes, which was what he had predicted. He answered all of my questions and gave me advice on replacing the fire logs (it is a gas fireplace). I highly recommend him and will use him again.